A good vacation can always be made better with a visit to the local brewery.
The girlfriend and I just spent a long weekend in Baltimore which us the chance to check out
Clipper City Brewing Company
in nearby Halethrope, better known as
Heavy Seas Beer
.
Like many other midsize breweries, the Heavy Seas brewery can be found in an oh so picturesque industrial park. If you're not careful you might miss it. I was grateful to be on the 11 am tour because if there's anything learned over the years it is that a little bit of morning beer goes a long way in helping fight off an ominous hangover like the one I was harboring. I started off with their Red Sky At Night, a very fine saison that really hit the spot.


For $5 you get yourself the tour, a Heavy Seas "Brewery Tour" shaker, and five tokens, each good for a very generous sample. The tasting room/gift shop is pretty spacious and was staffed by some rather friendly folks who were more than happy to over-pour for us. The awkward gathering of people before a brewery tour is something I get a kick out of and we had a real winning group with us on Saturday. There was however a baby on board for our tour and while I forsee myself getting my own kid into a brewery at as young an age as possible, this one just wasn't cutting it as far as I was concerned. The mom thought it was real amusing...I do not believe anyone else did. I filled up with their Märzen before the tour got started, who's multiple GABF awards adorn the tasting room wall.


Anyways, the brewery had just undergone a big expansion, knocking a hole in the tasting room way and taking over a large warehouse space where they're storing all of their packaging and some barrels. When I saw some barrels I mean a lot. These wooden wonders hold their
Mutiny Fleet
beers that are always a bit on the stronger side and much more complex than the rest of their lineup. I'm a sucker for looking at barrels so I was quite pleased to see them all stacked up here, ranging from bourbon to chardonnay.
Our guide, throwing us a curve ball, started the tour here where most other breweries would end theirs. One of the more impressive aspects of Heavy Seas in their involvement with an organizations called
Chimes
. Chimes is an international agency that seems to do some great work, providing people with various disabilities employment where they otherwise would be without. In the case of Heavy Seas, Chimes members work on their packaging by organizing the empty bottles into their designated six-packs and separating their different beers in the Heavy Seas
Sunken Sampler
. This is just one way the brewery gives back to their local community.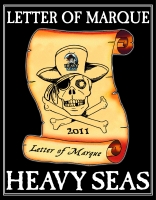 From here we continued to move backwards in the standard tour progression, climbing over a rickety step ladder into the cramped bottling line area adorned with pirate flag and all. We then got a glimpse into the large walk-in cooler where they not only store their giant sacks of hops but I also spotted some homebrew which I assumed were entries for their annual
Letter of Marque
competition. We didn't get to actually go into the cooler which I always enjoy in a brewery tour but...oh well.
Our guide emphasized the hard work that goes into kegging, something that seems to be skimmed over during a lot of other tours. Employees at Heavy Seas get promoted from the bottling line to the kegging line where they apparently bulk up in the upper arm region quite quickly. I forget the exact figure but the number of kegs they move through their cleaning and filling station was staggering and made me appreciate having their beers on draft even more.
We also got to check out the large horizontal fermenters that are reserved just for
Loose Cannon
, their flagship IPA. I hadn't realized before just how hopped up this beer is getting the normal hops in the kettle, a little more in through their hopback, and then finally being dry-hopped with 60 lbs per batch in the ferementers. It was obvious that they love this beer and are proud of having a stand-out east coast IPA.
At this point everyone's glasses were pretty dry so we wrapped things up and headed back to the tasting room. The last time I had gotten their
Small Craft Warning
out at it a bar and it was a bit rank so I was weary in getting a sample but luckily this batch was much fresher and satisfying. They call this beer their "uber-pils" which is...well...cute. I wish breweries would just stick to the traditional style names unless they are truely making up something completely new. I know it's just semantics but I like it when I know what I'm getting into with a beer. At least it's a solid brew and after having it at the brewery I won't be afraid to order it back home.
Even with the strange chronology, this was one of the more engaging tours I've been on. I didn't know all that much about Heavy Seas going in but have much more appreciation for their work now. After a couple more samples and schmoozing we were ready to get back into the city for some more sightseeing and of course a little more imbibing. This was a vacation afterall. I'll have a full post on the rest of Baltimore's impressive beer scene soon. If you find yourself in Charm City on a Saturday with some free time, take a drive to visit the crew at Heavy Seas for a
tour
. Despite their whole pirate brand, they're actually rather friendly...but they'll give you plenty beer so I guess that's still on theme.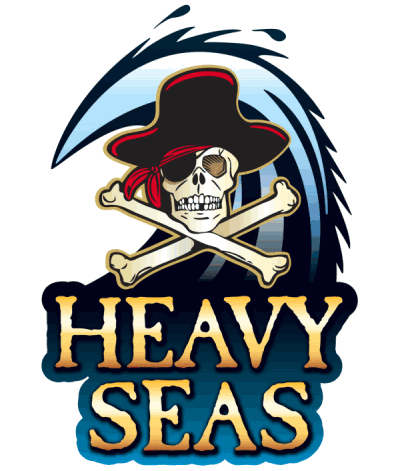 4615 Hollins Ferry Rd., Suite B
Halethrope, MD 21227
Cheers!