I wouldn't normally consider myself a pub crawl kinda guy unless it was one of my own making. But when the crawl is hosted by

Philly Beer Scene

, makes stops at some of the city's best bars, and is for a good cause...well I suppose that's a horse of a different color.
For the second year in a row now I ventured into Center City for the Brews For Boobies crawl for breast cancer with a big group of friends from all over the area, we even had two drinkers join us from Connecticut. Our own group, about 25 people, was probably half of the entire Center City crawl.
Everyone met up at the first bar, Cavanaugh's Rittenhouse, where the oh so tasteful t-shirts were distributed and $3 pints were flowing. A lot of us hadn't seen each other in a while and this was a great way to start the day. The first stop on last year's crawl was at Monk's which we were all a bit upset to see absent from this year's itinerary but not to worry, we were able to sneak in a few beers there the next day.
Arguably Philly's best brewpub, Nodding Head, was our next stop. Nearly everyone we were with was anxious to get some of their Ich Bin Ein Berliner Weisse since it would soon be gone until next Spring and like great beacons of light, multiple pitchers were brought out and quickly disposed of. I was going to say that that stuff goes down way too easily but that would make it sound like I was complaining. They also had wet hopped Chinook DIPA on tap, I only had a couple sips from someone else's glass but I'll be damned if that wasn't one of the freshest-tasting beers I've ever had. I also enjoyed a plate of their Thai wings which were equally delicious, they know what they're doing in all aspects. And I can't forget that I got to talk to my best friend Fae who is currently in Senegal in the Peace Corps, she was on last year's crawl and couldn't pass up at least being there this year even if it was only on the phone.
After being impressed with our own ability to successfully split the check for so many people we trampsed over to Misconduct Tavern where I took advantage of the $3 Sly Fox Saison Vos drafts. The bar was already packed without the crawl coming in so we commandeered the outdoor seating for some good old fashioned people watching. Luckily the weather was perfect for a 12 hour tour through the city and sidewalk drinking, sunny and warm. Once we snapped a group shot it was time to move on to Jose Pistola's, one of my favorite spots for dinner downtown. I was trying to be smart about my beer choices not wanting to be totally out of it before sundown but couldn't resist Port Mongo on tap. If you are a lover of hops and haven't had yourself a glass of this you should stop reading right now and seek out a bottle.

I was excited for the next stop, the relatively young Perch Pub on Broad, because I had heard great things but hadn't been there yet myself. Heading up the stairs to the bar I was surprised by how big the place was, I just wasn't expecting that much space up there. The hostess led us to the back room with the pool table which was suspiciously vacant, I'm not sure why everyone else decided to cram around the crowded bar. They have a pretty varied tap list and most of them were half off for the crawl, I went with Victory's Braumeister Harvest Pils and was thoroughly impressed. Big hoppy presence, probably too much for traditionalists, sweet pale malts, grapefruit, and lemon grass flavors with strong carbonation made for one awesome pilsner. Their Prima Pils is untouchable as far as I'm concerned but this is a great addition to the Victory family and offers some stiff competion. I do believe I snuck in a Dogfish 90 Minute while playing some pool but that can't be confirmed. I fully plan on getting back to Perch Pub, seems like a fun place to enjoy some very reasonably priced drinks and food right in the heart of the city.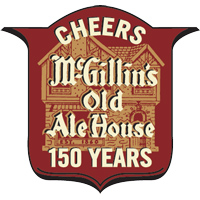 While an hour and a half may sound like a long time it really started to fly and before we knew it we had to move on. The next scheduled stop was Farmer's Cabinet but the group consensus was that we wanted to get a little rowdier than that would allow so we made a detour for McGillin's. I had been excited to try some of Terry Hawbaker's house-made beers but just wasn't in the mood, the appeal of taking over a jukebox and taking a couple shots was too strong. While I never think of McGillin's as one of my go to bars I always end up having a great time upstairs, if you're in the right mood it can be the perfect spot for a big group. There are usually some less than desirable patrons milling about and of course last year I did get kicked out of the place during Brews For Boobies but besides that...I can't really complain.

I'm pretty sure that the whole bar was grateful for our jukebox choices and we ended up having so much fun with everyone that we totally missed our stop at Varga Bar which I wasn't too thrilled about but we caught up with the rest of the crawl at Fergie's. At this point the size of the crawl had withered down substantially but our group was determined to make it to the end. Things got a little fuzzy this late in the day so the easy going Stoudt's Oktoberfest I had was probably a smart choice. There was some blues band playing about 3 feet from our table and we couldn't hear anything anyone was saying, looking back we probably should have just stayed at McGillin's because people started to check out here. I guess this is to be expected after 12 hours of drinking though.



We all made it through another great Brews For Boobies and are already looking forward to the 2012 crawl which is already set for October 6th! They are planning on expanding to even more cities next year, Doylestown is already confirmed and more may be added along the way so keep an out for your city. I think we will switch it up next year and probably hop on the Old City crawl which was tempting this year.
If you couldn't make it to this year's crawl but still want to support the cause, I encourage you to head over to the National Breast Cancer Foundation's website to make a donation of your own. While we had a blast on the crawl, no one can forget that the point of it all is to raise some money to help find a cure.

Cheers!