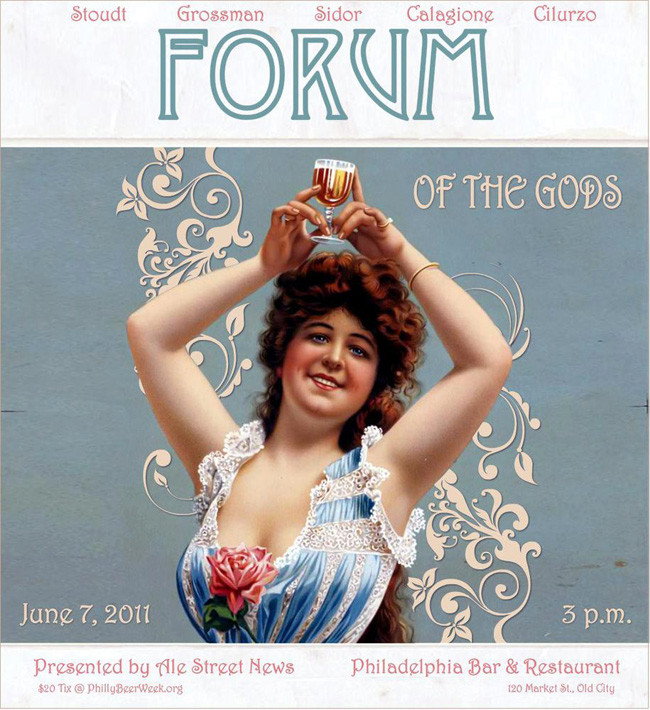 Here's an event I nearly missed. I skipped last year's Forum but knew for a while that I wanted to attend the 2011 event but I'm really good at procrastinating and so I kept putting off purchasing my ticket. Then, much to my dismay, it sold out before I got my act together. Knowing it was my own damn fault I put a couple desperate messages out on Twitter asking if anyone had any extra tickets and I got a 'maybe' from Doug of Gateway Beers. After a few days I hadn't heard from him so the morning of the event I sent out one last tweet to see if anyone had an available ticket and luckily Doug got back to me saying he did in fact have an extra. Huzzah! This was probably 2 hours before the Forum was starting and I was stuck at home with my car in the shop so I wasn't exactly sure how I was going to get myself all the way down to Philadelphia Bar & Restaurant in Old City. Luckily my Dad was able to drop me off at the train station and I just made the R3 to Center City that was set to arrive at 2:55 with the event starting at 3. For the first time ever SEPTA was running a bit ahead of schedule, I arrived early enough to hop on the subway and made it to PBR at approximately 3:01. Close call.
This year's Forum featured
Carol Stoudt of Stoudt's Brewing, Sam Calagione of Dogfish Head Craft Brewery, Vinnie Cilurzo of Russian River Brewing, Brian Grossman of Sierra Nevada Brewing, and Larry Sidor of Deschutes Brewery with Don Russell and Tony Forder of Ale Street News moderating. Not a bad lineup. PBR had a few special selections from each brewery on tap including the Russian River and Sierra Nevada sour brown brewed for the 2011 Craft Brewers' Conference, Symposium.
Everybody got a single separate ticket for that beer and it was the obvious first choice for me. After the hectic afternoon getting into the city, that first sip of sour-goodness came as quite a relief. Full of currant, earthy funk, brown sugary sweetness, and a mildly citric tartness with a pretty light body, this was a highlight of my entire Philly Beer Week and not just because it was "rare", it was just that damn good.
The place was packed but I managed to secure my own little spot in the corner as things got going. Don and Tony began picking the brains of the panel, letting their own beer geek flags fly. Early on Larry was asked about bringing Deschutes to Philly, after the London Grill dinner I was beginning to feel bad for him, and he jokingly replied, "If we can handle Utah, we can handle Philly." Just another reminder of our ass-backwards laws when it comes to beer in this state. Discovery Channel's 'Brewmasters' was also brought up and Sam was asked what ever happened to the short lived show but he could only give us some vague remarks on the subject, only able to say that more than ever you should be supporting your small or local breweries. Sounds to me like Miller-Coors' advertising was the real death knell for the series. Sam of course lived up to his frat-boy image, even cursing off a heckler at one point, good stuff.
One thing I was hoping to hear a bit about was the new collaboration between Russian River and Sierra Nevada, I think most people would be surprised to see anything with brettanomyces coming out of the Chico brewery. Apparently it was a long struggle with Ken Grossman to finally give the okay are introducing the wild yeast to their equipment. Vinnie and Brian hounded him and, luckily for all of us, he eventually gave in and is now "totally into it" which has me rather excited to get my hands on this beer. Another beer I was anxious to try was Exportation, the Exporter brewed for PBW 2010 at Sierra Nevada aged in Russian River wine barrels. Really light bodied for the style with aging adding a bit of sourness to the roasted coffee flavors. There were some what I could assume were oak flavors that came through as well. I wish they had the original on tap as well to compare but now I'm just getting greedy.
Carol Stoudt was quite passionate about the legislative side of things and the promotion of local breweries. She expressed her worry over the next generation who has to carry the torch and hopes they realize that you can't sell beer over the phone. It was great to see someone who has been in the business for such a long time maintain that fire and still care so much about it much like her husband Eddie who left me with the same impression when I visited the brewery.
The crowd slowly became a little more rambunctious as the beers flowed which got pretty annoying. A lot of people were starting their own conversations despite the fact that they had paid to go and hear other people talk, that didn't make much sense to me. I just stood in the corner quietly as the panel came to an end after they made the mistake of opening up the floor to questions. Someone had given me a couple extra tickets for beer so I was able to try everything I wanted including Stoudts 2X Chocolate Porter and a little more Obsidian from Deschutes on nitro...DELICIOUS. The brewers stuck around and mingled with the mortals for a bit so I figured I would say hello to Vinnie and Brian, thanking them and all that standard geeking-out kind of blabbering. They both seemed pretty genuine in their appreciation and love of Philly, specifically Beer Week which they were kind of in awe of. I was impressed Larry had actually remembered me from the London Grill dinner the night before, he was definitely the quietest up on stage but was much more open one-on-one.
This was the first time I had made it to PBR and I look forward to getting back there for a normal drinking session. Seemed like a bar I could fall in love with in area that already has so many must-see bars already.
It was an awesome experience to be able to drink these beers with the people who made them and for that I have to recommend getting tickets to next year's Forum. Given the caliber of brewers and beers there, the $20 ticket price is a great deal but make sure you buy your tickets early! You don't want to end up like me making that last minute dash, Beer Week is already hectic enough.
Thanks again to Doug from Gateway Beers for hooking me up with that ticket! Check out their website and all that good stuff, they're a great resource for seasoned drinkers or if you're just entering the wide world of craft beer.
Cheers!